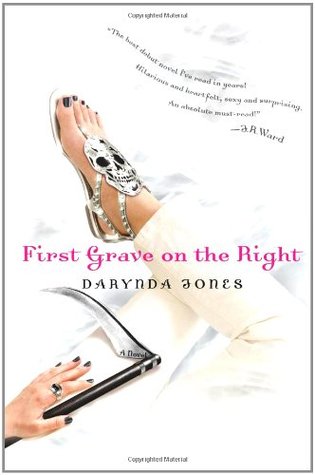 Genre: Paranormal
Rating: 6/10
It's not easy being Charlie Davidson-- first off having parents that would name you thus would definitely be a burden. Secondly she happens to be the grim reaper which is sort of a learn-as-you-go type of job full of dead people who sometimes request her PI skills to solve their murders.

I have strong mixed feelings about the book-- it's definitely a love hate thing going on here. There are parts of it I love-- the narrator has a strong, witty voice, the plot is fast paced-- and parts I hate-- the narrator thinks she's so witty the one-liners nearly dominate the story line, the story line itself is a little confused as to what it is.

Charlie is funny-- and the problem is she thinks she's hilarious. You could cut out half of all the one-line jokes dotted through the text and the book would be much better. When you start reading it's funny-- 200 pages later, it's a little less funny.

I alternated between liking Charlie and finding her absolutely insufferable. She has a chip on her shoulder the size of Newfoundland and the woe-is-me act can get repetitive for me. She honestly does have a lot to complain about-- but sometimes I want her to stop actively trying to piss off everyone around her.

The plot, while fast paced, reached a bit too far, and tried to do a bit too much. It's an easy problem for the first book in a series-- the author wants to set up bigger story arcs while also creating one that will start and finish in this book alone.

I thought there were some troubling non-consensual problems in this book. At the beginning of the book we find out that some dude has been coming to her in her dreams to sleep with her-- and she is in no way complaining about this turn of events. (**mild spoiler y'all**) We find out later that the mystery dream dude is a guy she met while in high school-- a guy who nearly sexually assaulted her and threatened to rape her. But the text focuses more on how hot he was as opposed to, you know, the problem with sleeping with a guy where in the only other interaction you had with him he threatened to rape you. I just want Charlie to talk about that-- to say something other than how sexy he was, to explicitly say how even though their first interactions were non-consensual, now they are consensual. I know this is a minor thing for most people-- I haven't read any other reviews that even bring this up-- but it was something that bothered me when I was reading this book. And maybe I'm being too nit-picky-- I mean she's clearly (kind of?) consenting now, so what's the big deal? Still.

Overall this book kept my interest, made me laugh out loud, and made me roll my eyes. If paranormal/urban fantasy books are your thing I would say definitely give this one a try-- it's a love hate book so while it was not my cup of tea, it just might be yours.


Have you ever read First Grave on the right? If so, what did you think?